Main content starts here, tab to start navigating
THANKSGIVING PIES
Pre-order your pies for Thanksgiving dinner and impress your whole family!
Slide 1 of 5
Slide 2 of 5
Slide 3 of 5
Slide 4 of 5
Slide 5 of 5
THANKSGIVING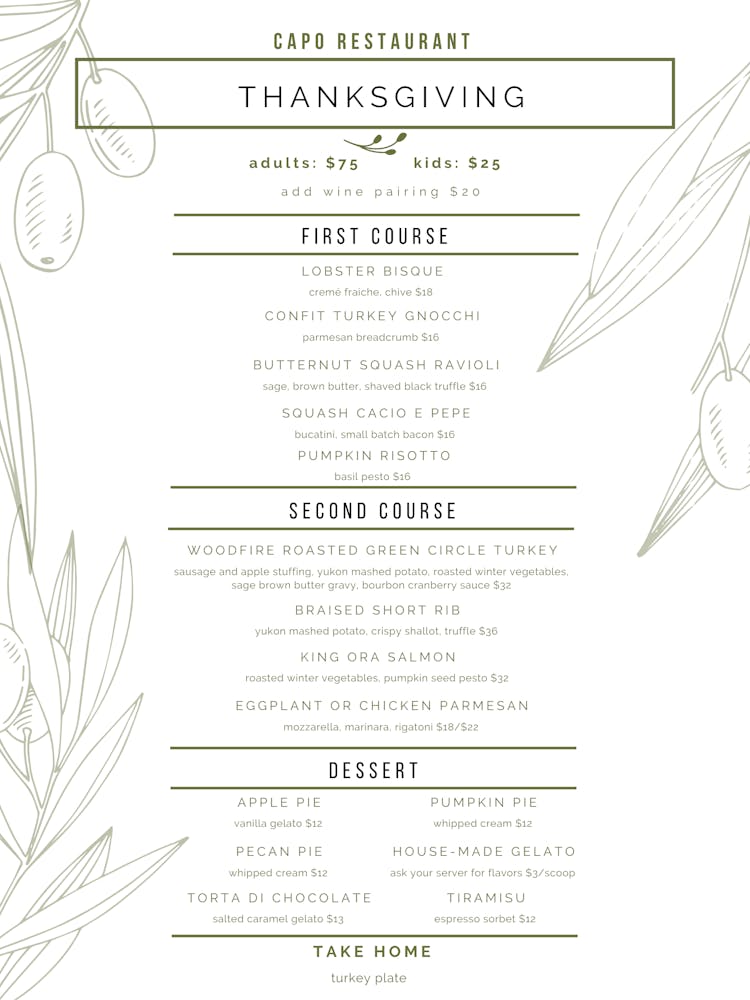 THANKSGIVING PIES
We will be offering the following pie flavors:
Apple Oat Crumble
Pumpkin
French Silk
Pecan
Pro Tip: Order a pint or two of our house-made gelato to serve with the pie!
We will be offering the following flavors of house-made gelato:
Vanilla Bean
Nutella Swirl
Mint Stracciatella
Espresso
Pumpkin Nutella Swirl
Salted Caramel
Cannoli
Brown Sugar Bourbon Pecan
Lemon Sorbet
Apple Crisp
Don't forget to grab a pint of vanilla bean whipped cream to complete your order!
Our Sangria Jugs are another great addition to your order! Offered this year in both red or white!
All pies will be available Traditional ($30) or Gluten Free ($35) and can be picked up at Capo Restaurant on Tuesday, November 24th, Wednesday, November 25th & Thursday, November 26th. Pre-orders will be accepted until Monday, November 23rd at 6pm.
For questions about your order or concerns about allergies, please contact patrick@caposouthboston.com.